I purposely choose Kings to play anytime the opportunity arises for the mere fact I
fracking love
Never Have I Ever... although I'm usually the first out because I've done everything most people are ashamed of even thinking of doing.
No cards games or kings today. and no alcohol. boo?
So I'm going to keep this a little PG-13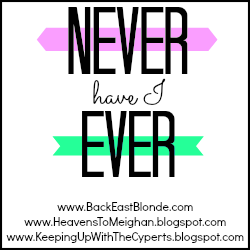 Never have I ever...
Not blogged in this class
. Thursday afternoons are so boring if I don't.
Worn red lipstick.
I prefer pinks, peaches, and nudes.
Been to the midwest
. Been North, South, East and West. But never in the middle.
Been on a train.
I've been on a plane a million times though.
Worn comfortable shoes other than Rainbow Flip flops.
Thank you, bunions. You will forever cause me pain regardless of the type of sneakers, heels, flats, or wedges I wear. My feet are only comfortable when they're not being suffocated.
Been arrested
. Surprising, and thankfully. I've been in and around a lot of situations to be though.
Dipped my toes in the Gulf of Mexico
. Dipped them in the Atlantic and Pacific ocean and the Caribbean Sea. But never in the Gulf.
Been able to wear cute boots in the fall
. My calves are just too big. Am I a beast? Yes, yes I am.
Turned down trying a type of food or alcoholic beverage
. I will try anything once. And it will be my new favorite if I like it.
Missed an episode of Grey's Anatomy
. I've seen all episodes at least twice. I own all of the seasons on DVD. I am obsessed and will become violent if they ever end the show.
Not checked my twitter, facebook, or instagram in a 24 hour period
. Social Media junkie.
Been confused about what I wanted to be when I "grew up"
I've dabbled at other ideas and interest s but I always knew I would become a nurse. Well, I'd become a professional blogger if it paid for the type of lifestyle I intend on living.
Kidding
, kind of.
Been to a rap concert.
Weird. I've been to country, blue grass, pop, hard rock, indie rock, punk rock, etc. etc. but never a rap concert. Maybe I should go see Lil Wayne this year or something for my birthday. No? Maybe not.
Link up and play along!